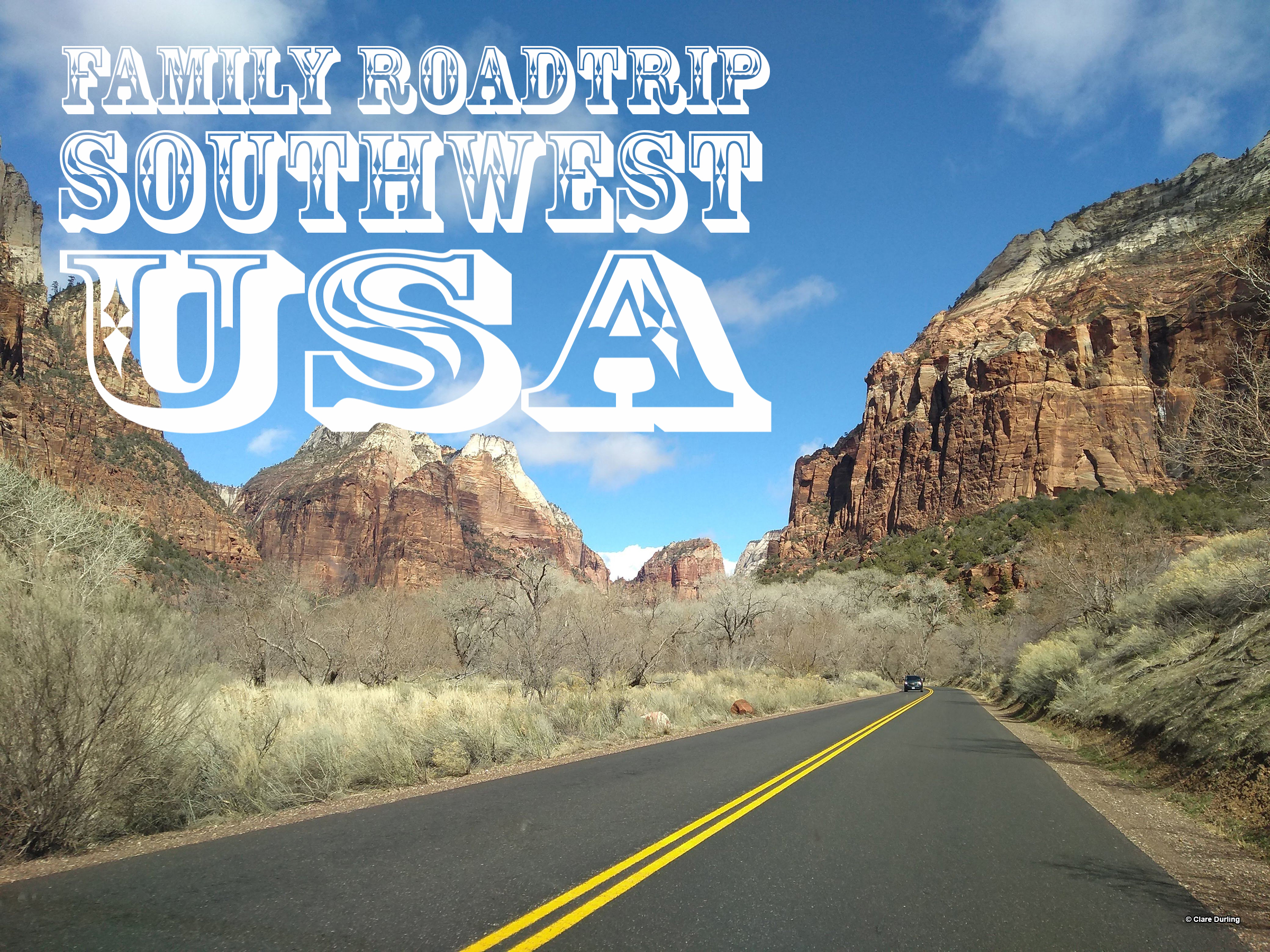 In February 2019 my family and I embarked on a mini-Southwest Road trip of the United States – I say "mini", because I am now more educated on the vast distances of the southern USA.
We left from London Gatwick via Norwegian Airlines – this airline does not enjoy the best reputation however they did exactly what we wanted them to do, and they did it well. In fact, without their extremely competitive prices, this whole trip may not have been affordable: total flight-cost for 2 adults and 3 children (twins aged 5 and our older son aged 8) came in at just under £2,000 (taking into account the meal service we opted for on the outbound flight only).
Arriving ahead of time in Las Vegas McCarran airport we headed straight for our hotel, The Holiday Inn Vacation Club. Clean, good location (just one block off strip), and affordable (bearing in mind that we were travelling in February's low season). It had two bedrooms, a balcony, great kitchen and dining room. Possibly the most exciting thing of all – a washer and a dryer in a utility room located just off the balcony. (Any parent will understand our unbridled joy at this discovery right?)
Thanks to a continued jet lag and adventure enthusiasm we were all up at some ungodly hour the following day (up and out by 4:30 am) so we found a 24 hour IHOP and ate breakfast – in company with the Las Vegas party animals, who were just eating their post-party meal, complete with sequins, high heels and handbags! From there we enjoyed relative calm of the Bellagio Conservatory, taking in the largest chocolate fountain in the world before walking through the casino (people really do gamble at all times of day) through to the Forum at Caesars Palace. We enjoyed having this place to ourselves with exception to a few bemused security guards. This was our first glimpses at the mega structure of Las Vegas hotels and we were amazed and enthused to see it.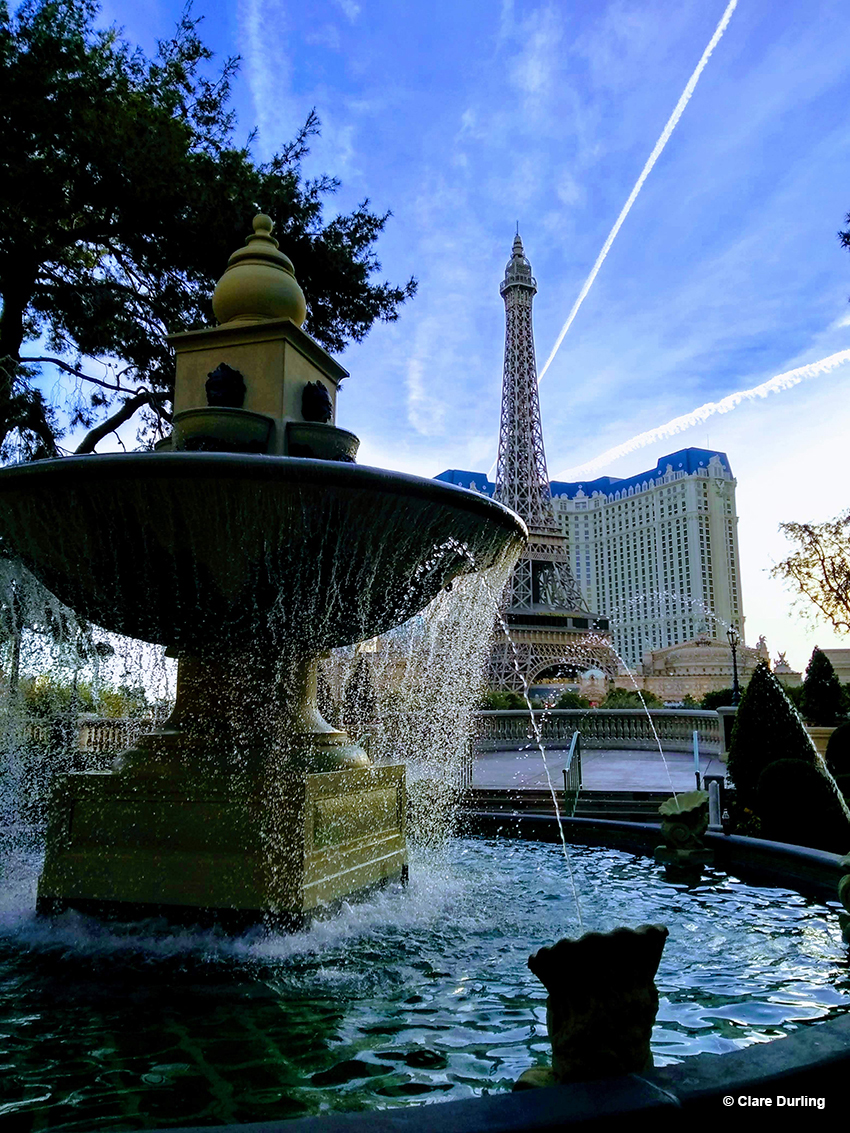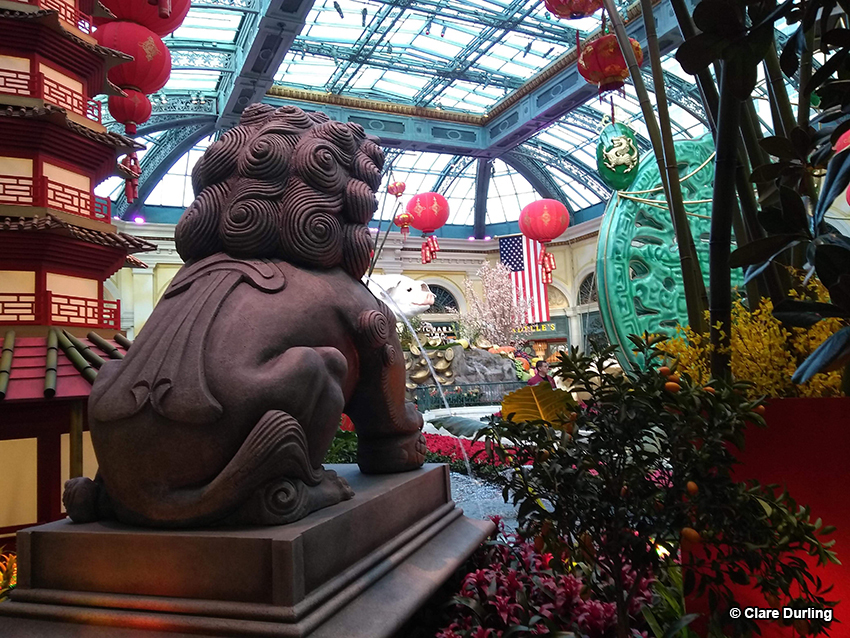 Again using our jet lag to our advantage, the following day we were up well before the sun and we drove over to Death Valley National Park. It was a very memorable journey; as the sun rose we discovered landscapes that we had only ever imagined. So much space! When inside the park our first stop was Zabriskie Point – popular culture sites it as the location for the front cover of U2's Joshua Tree album – the unique landscape was formed from years of borax mining. The children just loved wandering this area – particularly after a long car journey.
Then on to Badwater Basin – I still can't believe how much the landscape changes in Death Valley in such comparatively short distances. (Whilst we were driving we saw what we believe to be a wild Coyote eating some prey right on the side of the road - a trip highlight for us!)
It was still early as we walked out on to Badwater Basin and we had our coats on. This was a mistake - the sun very quickly began to heat up so we ended up carrying them. We had so much fun playing out of the salt flats, it felt like nature's adventure playground. The children tried the salt and complained it was "too salty" - a full sensory experience. We were so amazed in our surroundings that we walked out much further onto the salt flat than we realised – walking back took a long time. However it wasn't too hot and totally manageable but to be aware if you are traveling at a hotter time of day/year.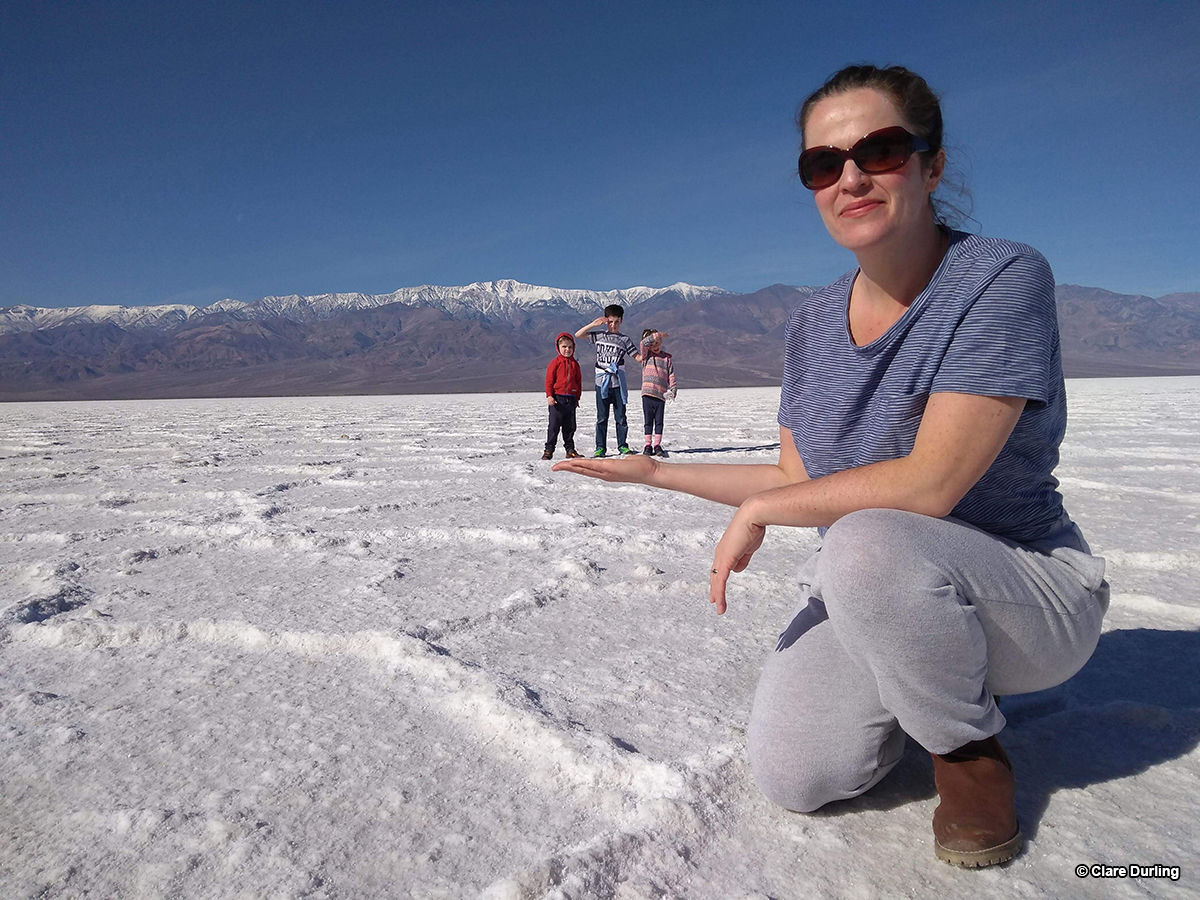 From here we went to Furnace Creek – the name didn't disappoint. By the time we arrived there – I think around 11:00 – they were already measuring 79 degrees in February. I can not begin to imagine what this place must feel like in the summer months. We had our picnic lunch and our first taste of "gator aid" before departing for Mesquite Sands and had fun running up and down the sand dunes, taking picture after picture of this amazing location. My husband and kids enjoyed the Star Wars reference of being the location of "Tatooine" – it did look other worldly.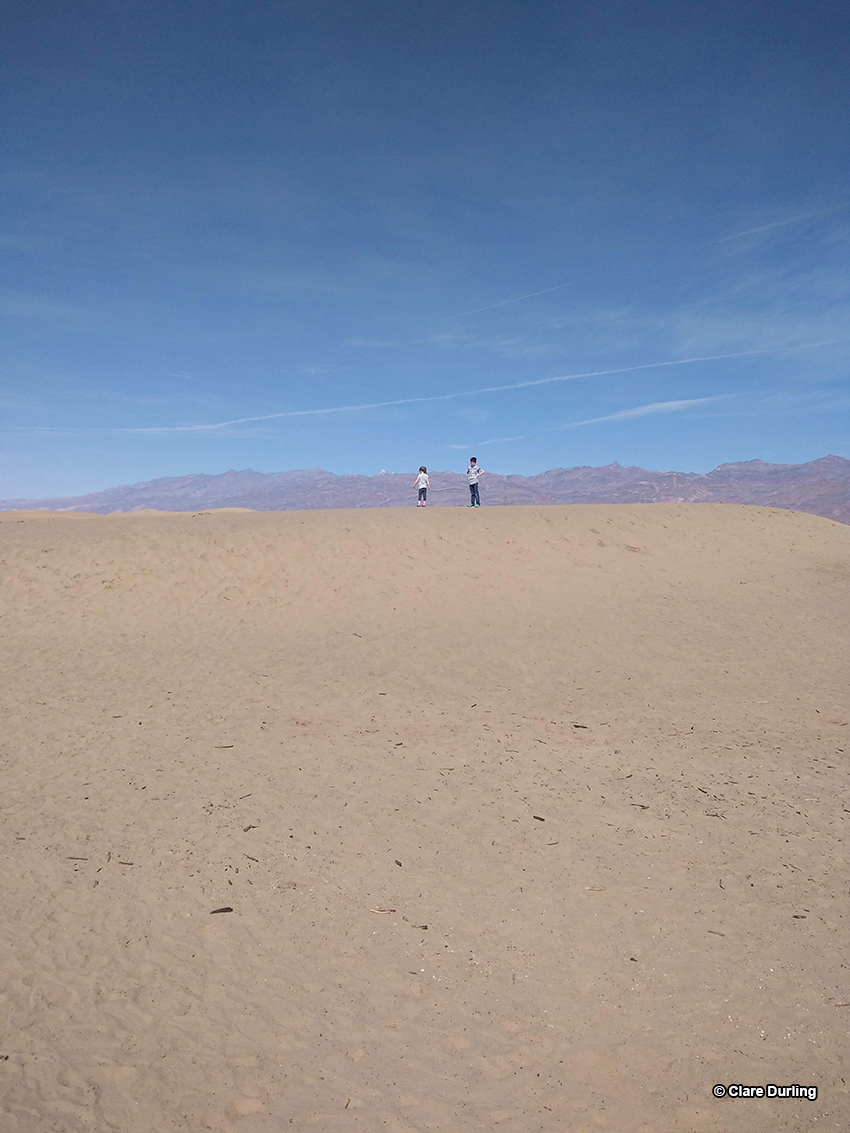 We spent so much time playing here that we exhausted ourselves. (Having been up since silly o'clock in the morning) Honestly, it was a whistle stop tour of the National Park and we missed out on so many sites such as Artist's Palate to name just one. I felt we could have easily spent a good many days exploring this park and if we are ever lucky enough to return it will certainly be in the winter months!
The following day, we stayed in Las Vegas again taking advantage of the free car parking at The Venetian. Yet again, our early morning rises had us up and exploring Las Vegas in relative calm.
The following day we hit the road to The Grand Canyon National Park, stopping to see the Hoover Dam and then again at IHOP in Kingsman, Arizona. We were so excited to see The Grand Canyon that we drove straight past The Grand Hotel in Tusyan (our lodgings for that night - reasonable rooms, with leisure facilities, and communal areas bursting with character), and drove straight up to Mather Point. How can one describe their first sight of the Grand Canyon?! Before laying eyes on the vista myself, I filmed the kids reaction – it captured such excitement, awe and enthusiasm. We spent two glorious days here. The previous week there was a snow storm, and there was still plenty of snow on the ground to build snowmen.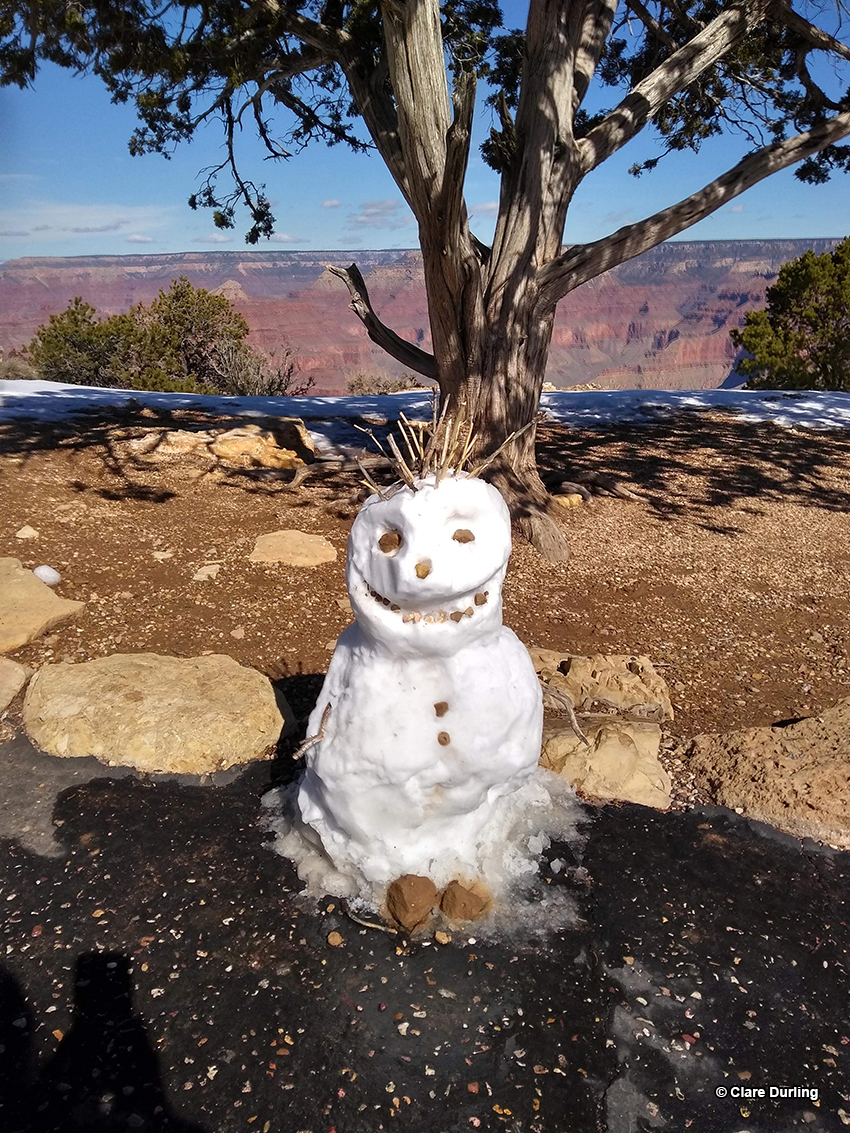 We met and chatted to so many people and just had a wonderful time. The toilet facilities were not as bad as I had heard, but perhaps this is because we went in low season. Because we visited the park in February, we were able to drive our car to the various viewpoints – visiting the park in low season meant we didn't ever have to wait in any lines, we could drive throughout the whole region, park up easily, and the crowds were very minimal. We could also afford to stay just outside the park, as the low season hotel rates were much more affordable in February compared to, say, the spring months.
We then drove to Page, Arizona stopping at Tuba City, Arizona to see the dinosaur footprints. I wouldn't like to comment on the authenticity of this site, but it didn't matter as it captured the imagination of the kids, who absolutely loved it. A gentleman gave us a whistle stop tour of the site, and even gave the kids a dinosaur tooth and a dinosaur bone (again I am not truly convinced of the authenticity of them but the kids are and that's all that counts right?! )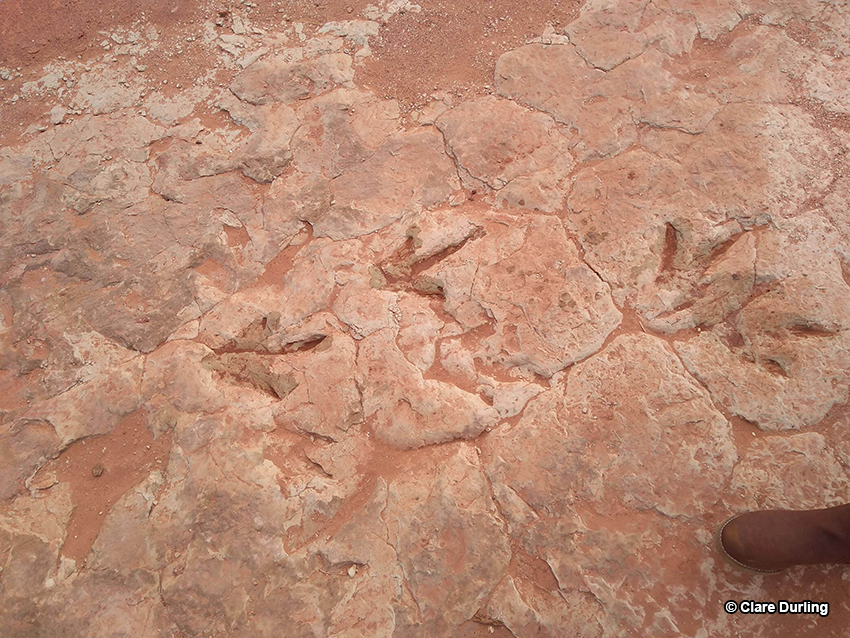 We stopped off again at Horseshoe Bend – holding on very tightly to the kids! It's a very short walk on a February afternoon – a Brit may compare this walk as the equivalent to a stroll to the post box, etc. The American term "hike" confused me a bit, but we were pleasantly surprised by the ease of the walk – although I can imagine this walk to feel very different in August. The kids enjoyed seeing a scattering of lizards en route. We then checked in to the Country Inn and Suites in Page, AZ. A clean, basic hotel that offers a complimentary hearty breakfast each morning.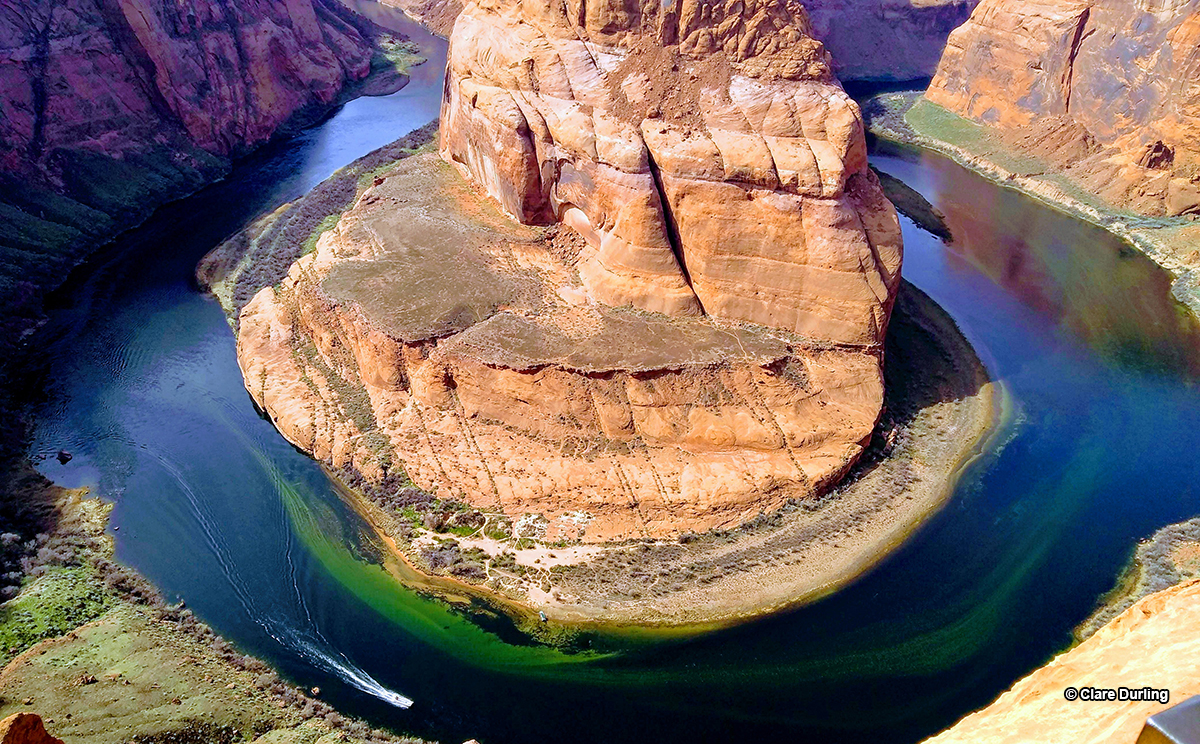 We had booked an Upper Antelope Canyon Tour, but started to worry that our youngest son (who has autism) may not cope with the trailer-ride out to the canyon entrance. We went to have a chat with an alternative tour company, Ken's Tours, to talk about Lower Antelope Canyon. I had previously dismissed this based on the need to climb down ladders to access the canyon. However, with the support of a great tour guide called Cody we got down the ladders/steep steps just fine. In fact, arguably this tour is better placed for younger children, who are far more accustomed to adventure play than adults. We were especially proud of our younger son, whose sense of adventure and awe carried him through. This tour was not time pressured, we had plenty of time to really enjoy the experience of the slot canyon, and remains the highlight of our entire trip. I very nearly dismissed Lower Antelope Canyon with younger children, and encourage you to consider it.
The following day, we took in Lake Powell and went on a boat ride from Wahweap Marina at a budget blowing 300 dollars for three hours. Thankfully, my eldest son must have drank around 300 dollars of complimentary lemonade! Nevertheless, this was a beautiful and highly relaxing way of seeing the lake. I never imagined how impossibly beautiful this place is, and I am so grateful we experienced it. I think there are cheaper options – especially in the spring, as Page wakes up again after the winter. Other highlights of our time in Page include The Hanging Garden Trail, the Carl Hayden Visitor Centre, and the Warheap Look-out Point... There is just so so much to do in this area – we didn't take in the Toadstall Hoodo's, or the Vermillion Cliffs in Arizona to name but a few.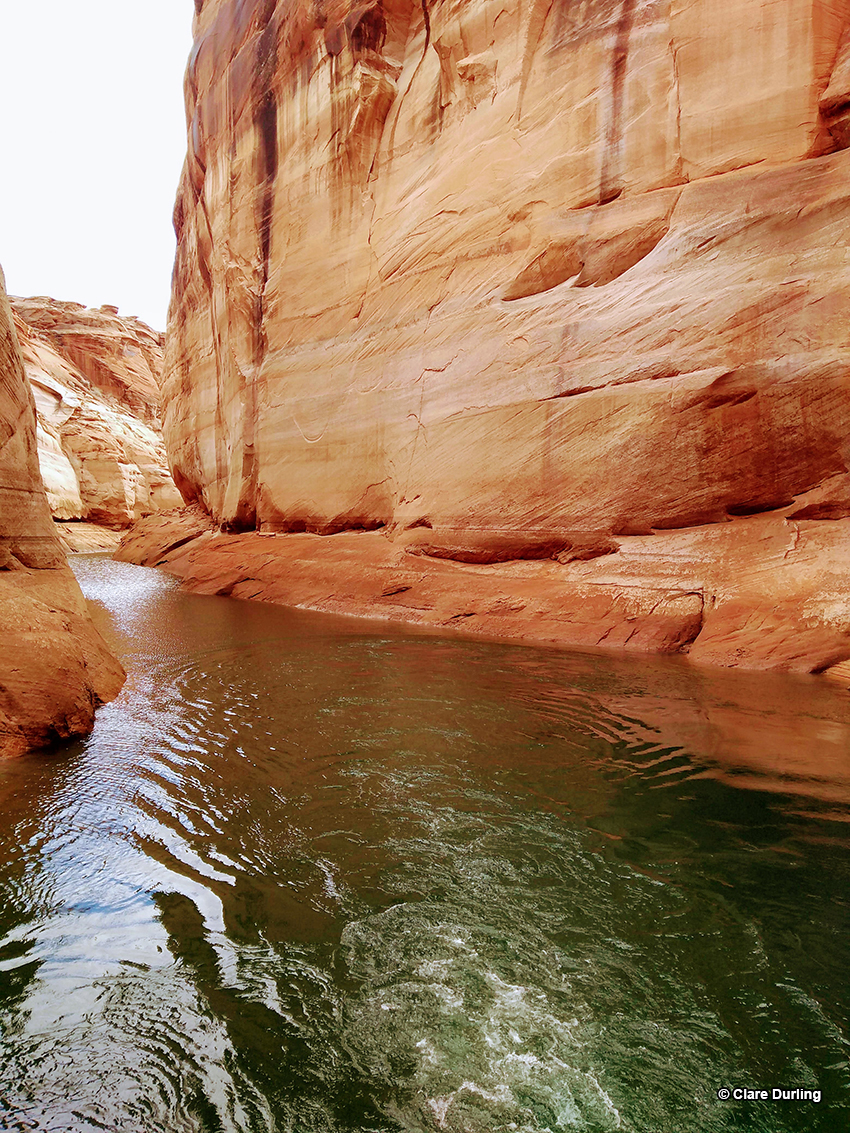 It was time to hit the road again and we chose to go via Zion National Park and Grafton Ghost Town. Zion National Park – when will we learn – yet another National Park we could have happily stayed in for a week. We underestimated this place and we stayed only 5 hours - but a magical 5 hours! We walked the Lower Emerald Falls, and the walk around the Temple of Sinawava, to the start of the famous Narrows. We must have walked for miles, but the children didn't complain once – they, like us, were happy and amazed by nature's spectacle. It makes us think why on earth we ever took them to Disney World, when the whole family were much happier, calmer and joyful when in a national park... but you live and learn!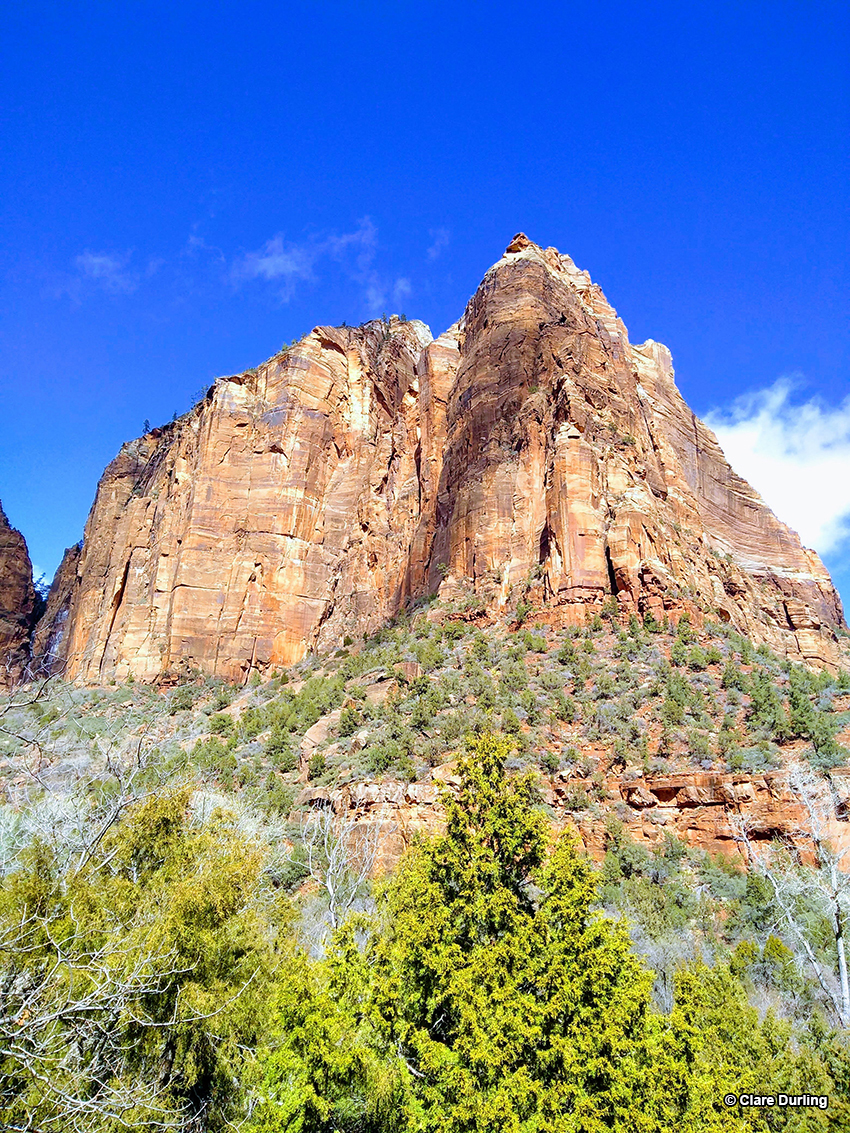 We had a hard time spotting Grafton Ghost Town - a very small brown sign on the left as you come out of the National Park is all the advice you get - but it's well worth a stop. Our hire-car got very dirty (we nearly got a hefty fine when returning the vehicle a few days later to the car hire company, were it not for a very kind employee) due to some recent rain making the un-made roads pretty muddy. Anyway, back to the Ghost Town – it didn't disappoint. It was very eerie; we were interested to learn how the settlers lived (and died!), their relationship with Native Americans, and how they eventually left to pastures new. The town and the graveyard are both maintained by a local group and they welcome you to leave a donation as you leave. We loved this place!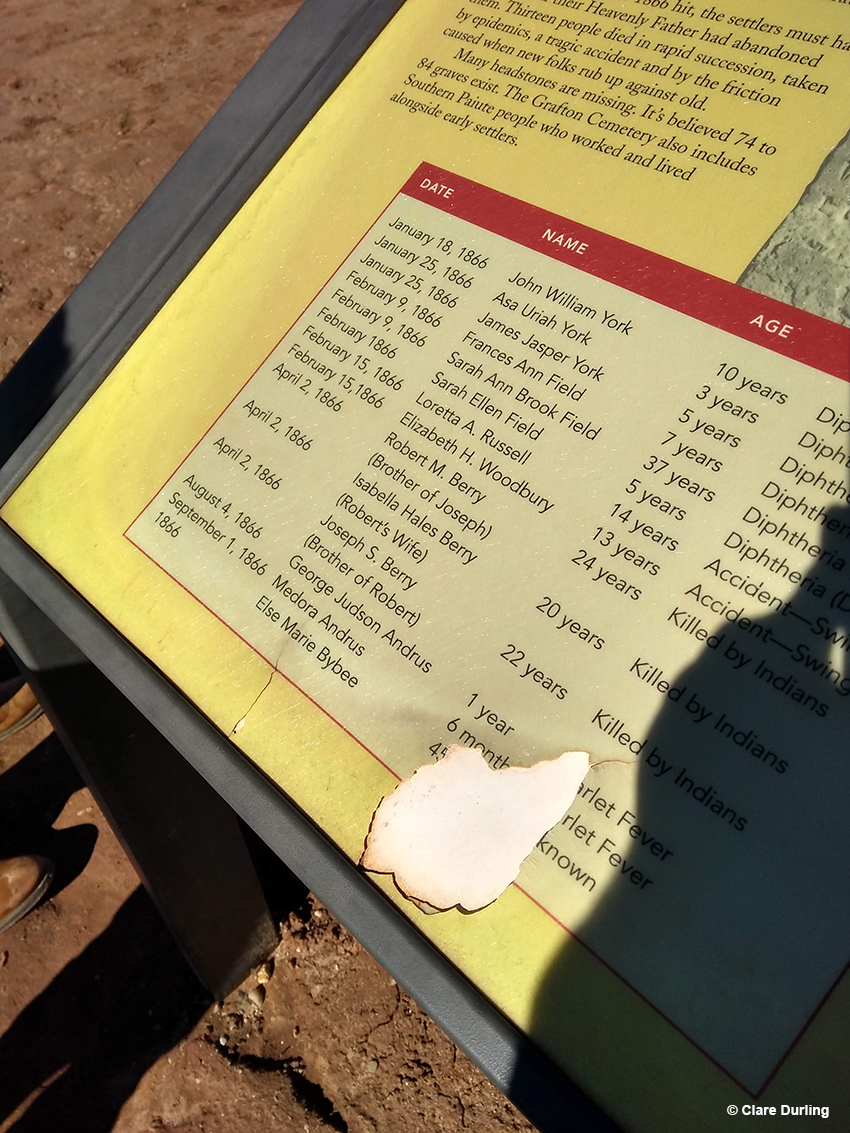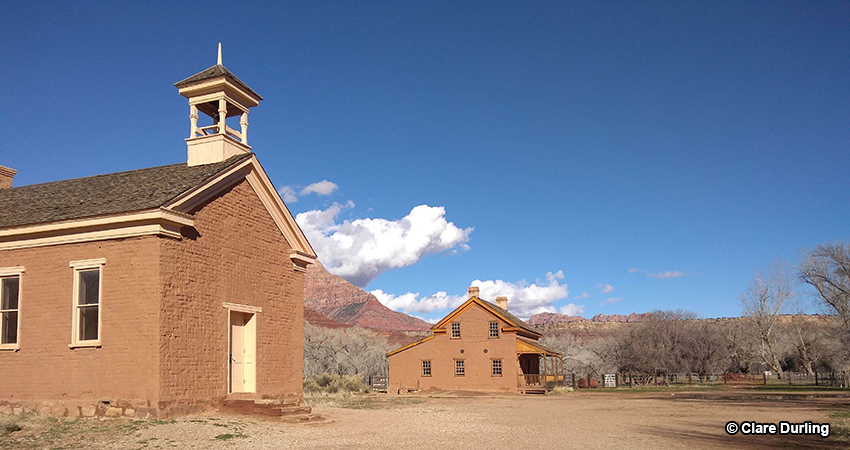 Then, back to Las Vegas for a few days chilling by the pool of the Tahiti Village – this was quite a way off strip but, for us, this was perfect. Fortunately, my youngest son is an aviation enthusiast – as this hotel sits just minutes away from McCarran International Airport, flights are frequently taking off, reminding us that we are not, in fact, in Tahiti! The hotel was huge, with a wonderful outdoor pool, lazy river, and bar area, and the staff and amenities proved the perfect ending to the perfect trip.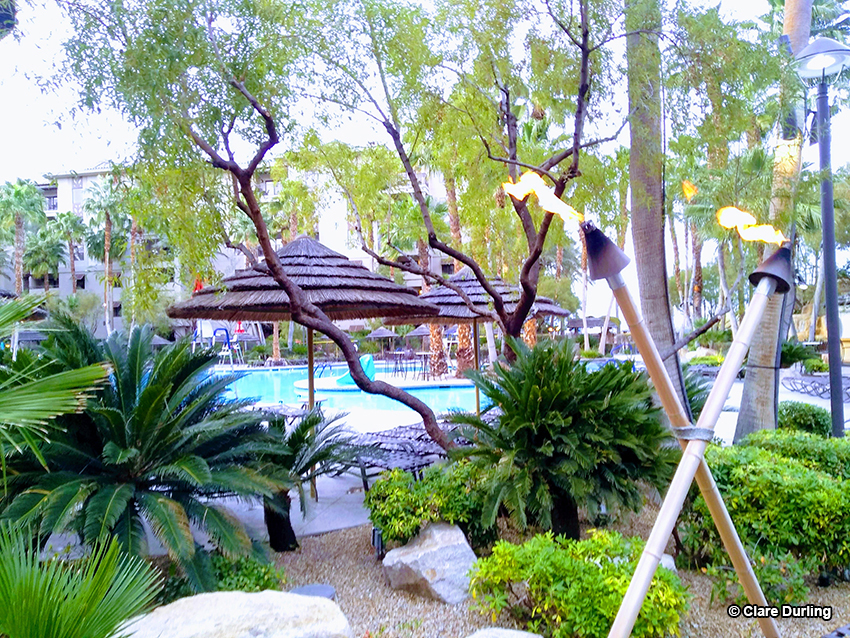 Cheap eats: The Sweet Tomato. A salad buffet with pizzas, pastas, jacket potatos etc. (We fed all 5 of us until we were stuffed, and came away with chage from $50)
Even cheaper: takeout pizza from Subway and a pre-boxed salad from Walmart.
Slightly more expensive The Cheesecake Factory – I actually think my husband is in love with the Smokehouse BBQ burger.
Gas/petrol is unbelievably cheap when comparing it to European prices.
Car hire was roughly 500 pounds for a large 7-seater Dodge Caravan people carrier for the two weeks. This was not the car my husband had always envisaged doing this road trip in (he had ideas of a convertible muscle-car) - wife and three children dictated otherwise.
We travelled with hand luggage only and relied heavily on hotel washing machines and we found this worked out very well.
Generally we found that all the hotels were very accommodating for a family of 5 – I just wish this was more the case in Europe.
Tags: roadtrip; family travel; southwest; national parks; traveling with kids