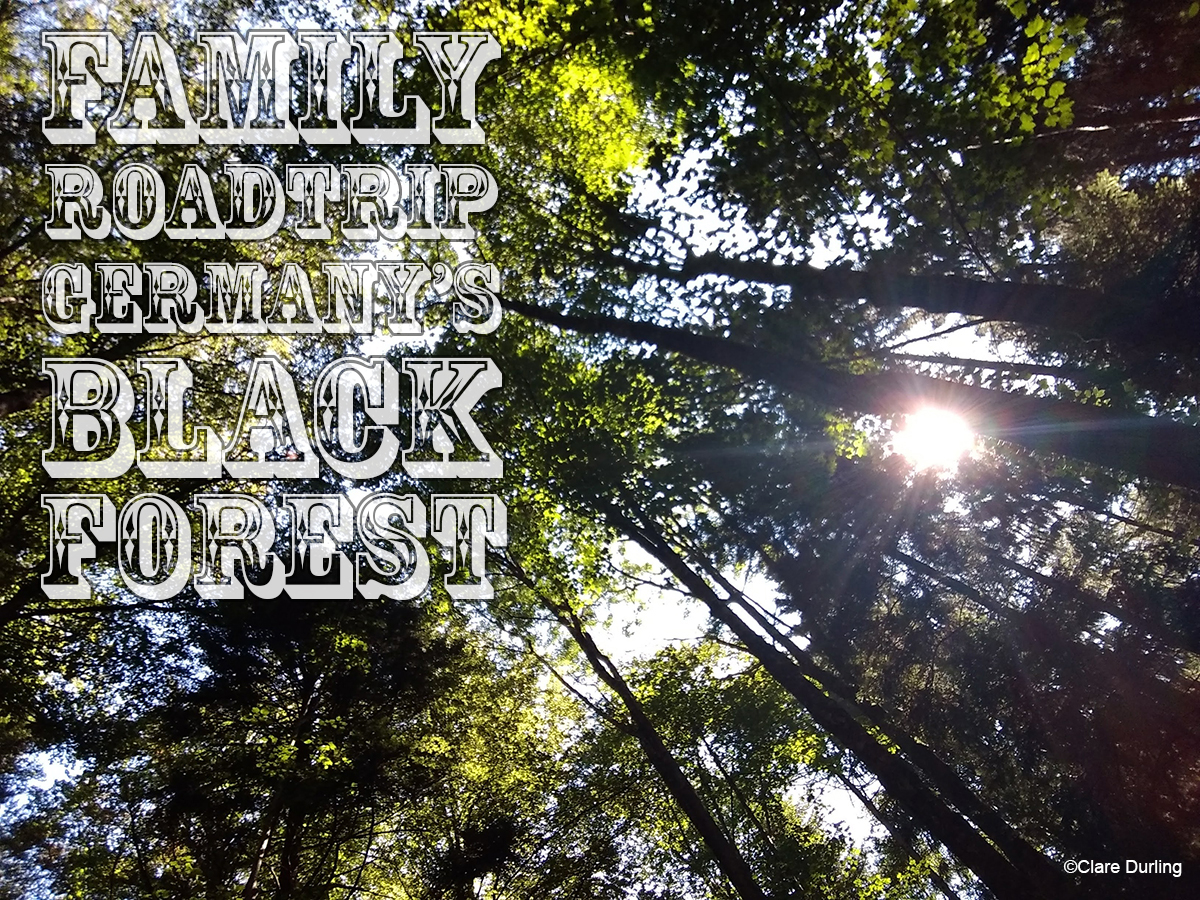 In August 2018 we, embarked on a family road trip holiday to The Black Forest. A beautiful corner of Germany that has so much to offer families, the region is Baden-Württemberg and it's famous for beautiful mountainous forests, tranquil country villages and of course Black Forest gateaux.
Best of all we found it very accessible from the UK - inexpensive (especially considering we travelled in high season) and not very crowded at all. The region offers many attractions to appeal to the family such as theme parks, lakes, mountain tobogganing, castles (or should that be 'Schloss') and many open air swimming baths. Most of these places which are included in the The SchwarzwaldCard ("Black Forest Card"), making it excellent value for money.
We set off from Manchester Airport via RyanAir to Stuttgart during RyanAir's summer of discontent. The constant worry of "will they/won't they strike" increased our anxiety but, fortunately, we were the lucky ones, and our flights were not disrupted. After a very short flight, we landed to pick up our hire car (trusty, oversized people carrier to accommodate us all) and set off down the autobahn (that takes some getting used to!) to our first destination - Heilbronn. Checking into Hotel B&B - a cheap, efficient and reliable hotel chain which offers various locations across Europe.
Here we spent a few days both exploring the city and the surrounding area and reawakening our European driving skills (here we extend our apologies to the enraged cyclist that we cut up when turning right into a car park – at least he taught us that all the good swear words are the same in English and in German )
We all enjoyed Ludwigsburg Residential Palace, which has beautiful gardens for the kids to run around in. Ludwigsburg Palace gardens are well known for their beautiful pumpkin display in the autumn, but appears to have plenty of offer all year round. The fairy-tale garden boasts 'Aladdin', 'Hansel and Gretel' and, of course, 'Rumpelstiltskin'! It also offered a few more unfamiliar tales; we learnt about 'Max and Moritz', a pair of naughty little pranksters who met an untimely and rather violent end!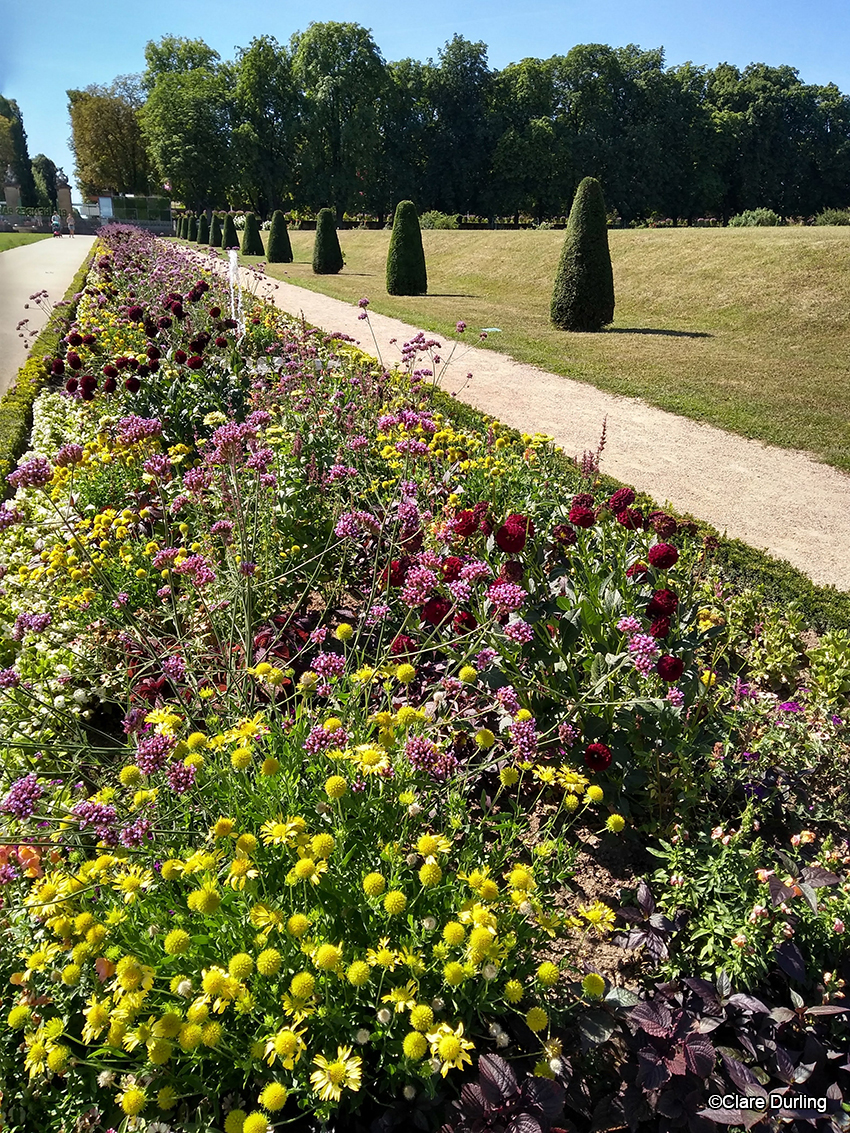 The fairy tales had darker endings than perhaps us British snowflakes are used to. However, these darker endings did nothing to dampen our enthusiasm, and next we enjoyed and then endured repetitive boat journeys around the Märchengarten area (endured only because of the kids instance to "go on it again!")
Just as we broke free from the boat ride circuit, we stumbled upon the adventure play area. Thankfully this was in the shade, and so we spent a happy hour here watching the kids play to their hearts content and made friends across the language barriers.
Another highlight of the Heilbronn area was Experimenta, which was excellent! There are lots of hands on experiments to keep children (and adults) of all ages occupied for hours.
After a few days in Heilbronn, we continued south to find our holiday home for the next 10 days, in the beautiful small village of Britzingen - a quiet (until we arrived!) rural village set in amongst the hills of The Black Forest, and surrounded by vineyards.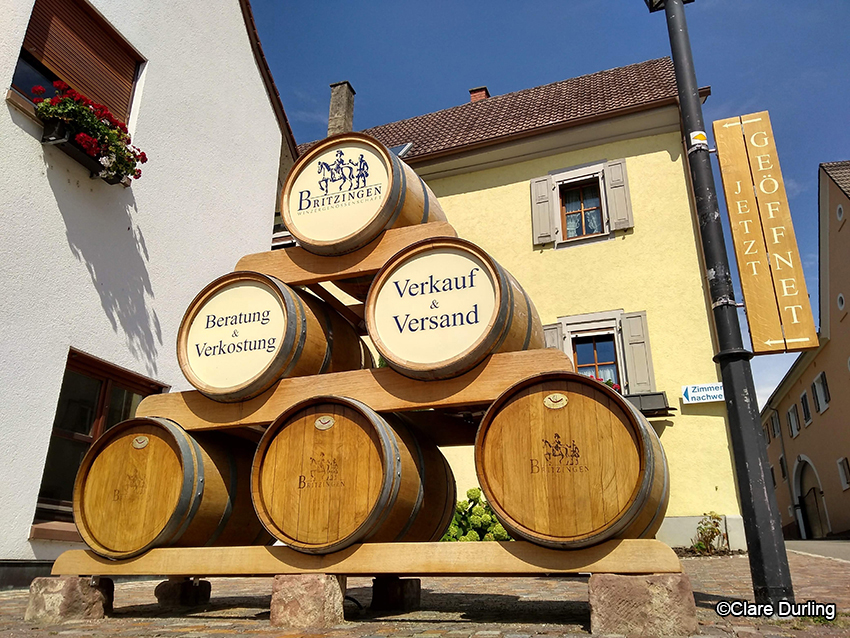 We hired a 2 bedroom flat from the HomeAway website. We found Aldi and Lidl nearby in neighbouring towns, and this helped us to keep holiday costs right down.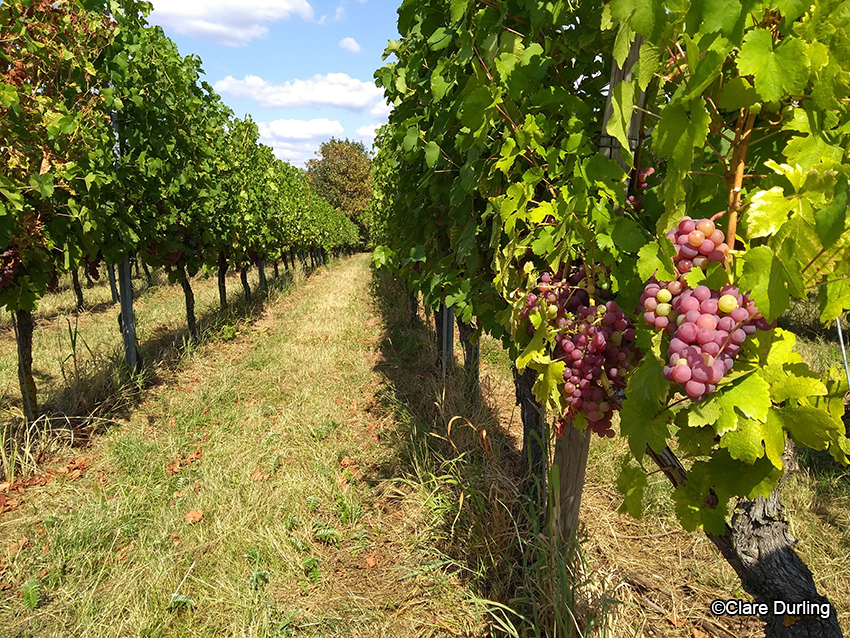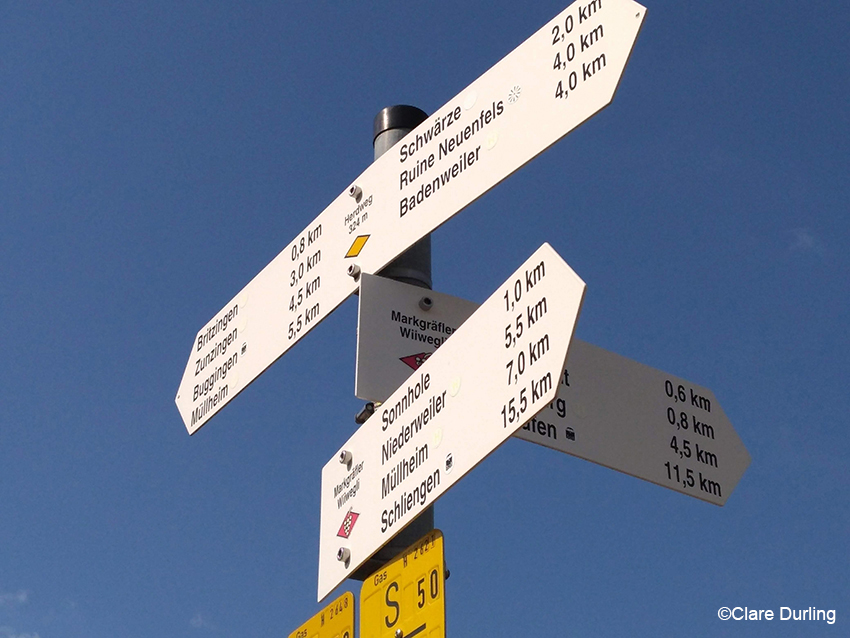 We discovered nearby Badenweiler, which sits very close to the French and Swiss borders. It is a beautiful cobbled town that, we learnt, was quite typical of the area. It sees many tourists visiting the beautiful Cassopia Therme Spa and a beautiful Schloss Park. We walked/ran/played /lizard hunted all the way up Burg Barden (completely free) and then played in the park below. The beautiful views of the Schwarzwald went completely unappreciated by our little traveling circus, who were far too busy playing hide and seek and discovering the ruins!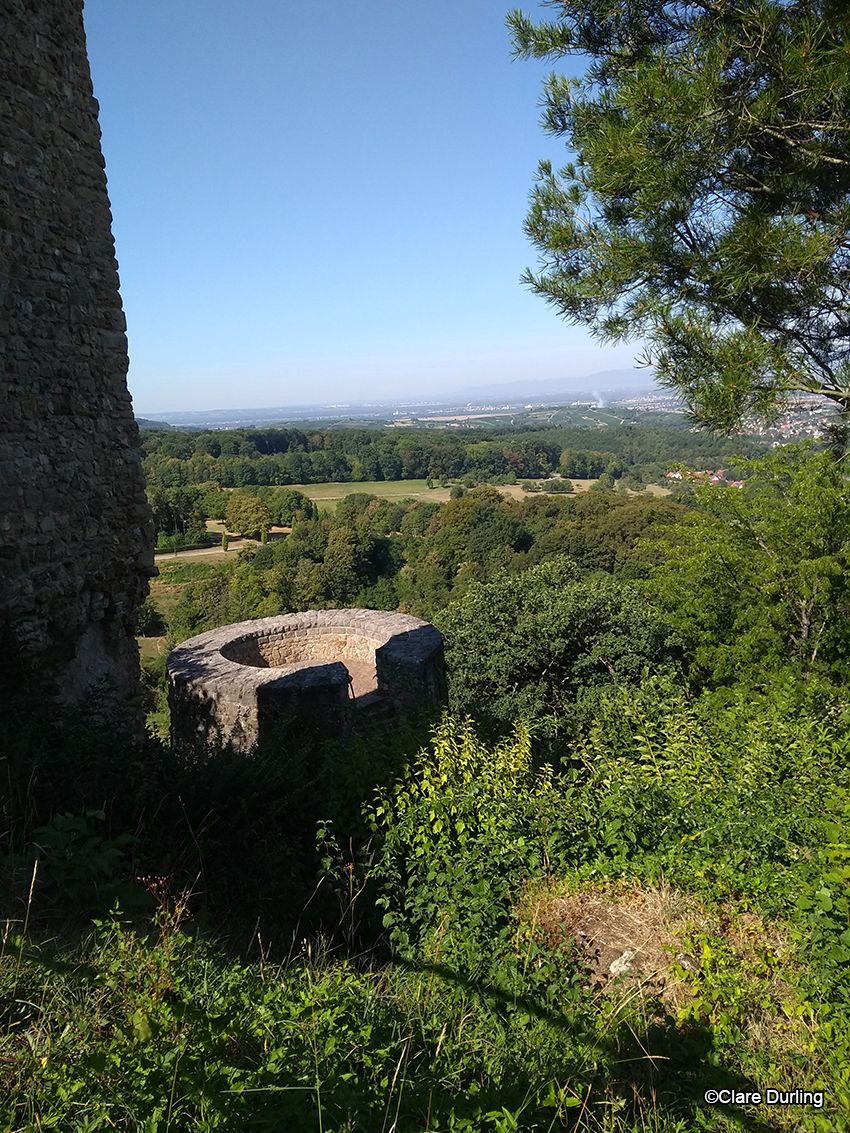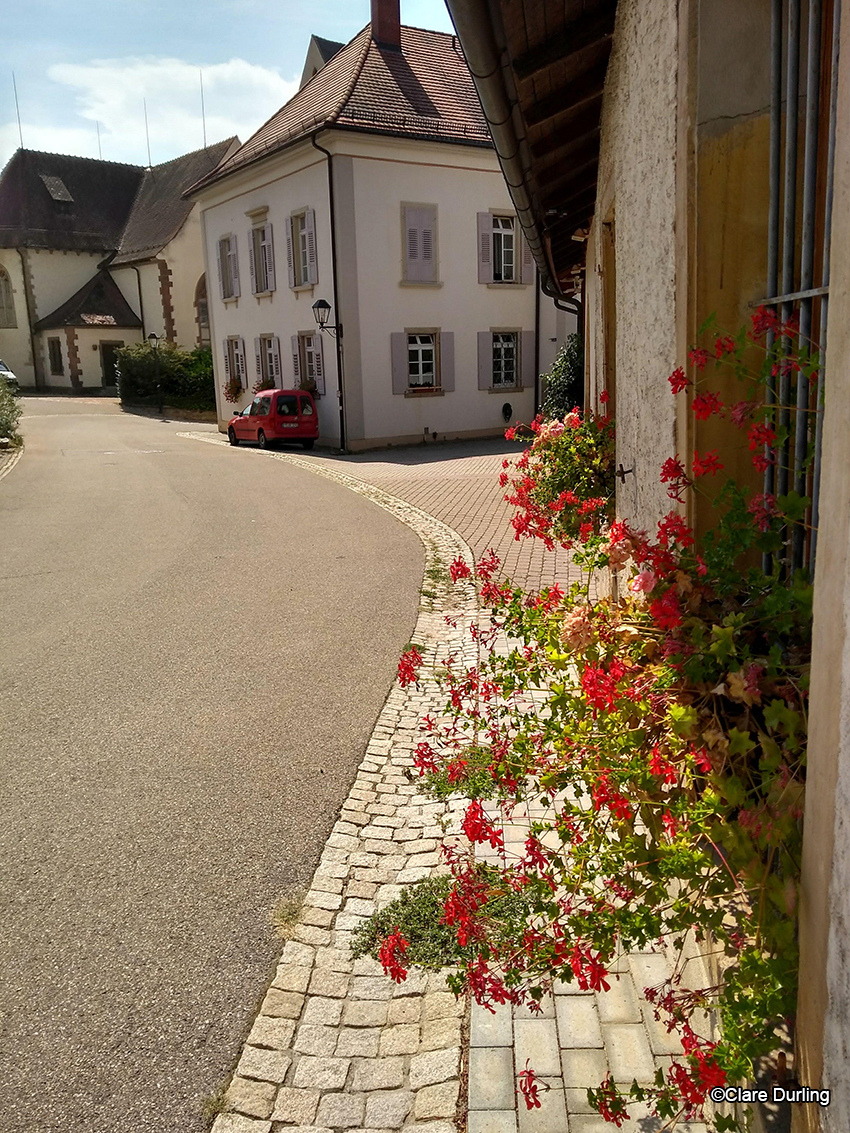 We found the area had loads of open air swimming pools to choose from, and all had very cheap entrance fees. The closet one to our location was Sport-Und Freizeitbad, which met our needs perfectly with slides, lazy rivers, adult pools and splash zones - all for a couple of euro's. You could pay a very small price to reserve your (extremely comfortable) sunbed for the day. We all know how seriously Germans take their sun beds, so I welcomed the clarity on this. Here we chilled, swam, played and ate Bratwurst and/or currywurst at the very reasonably priced café.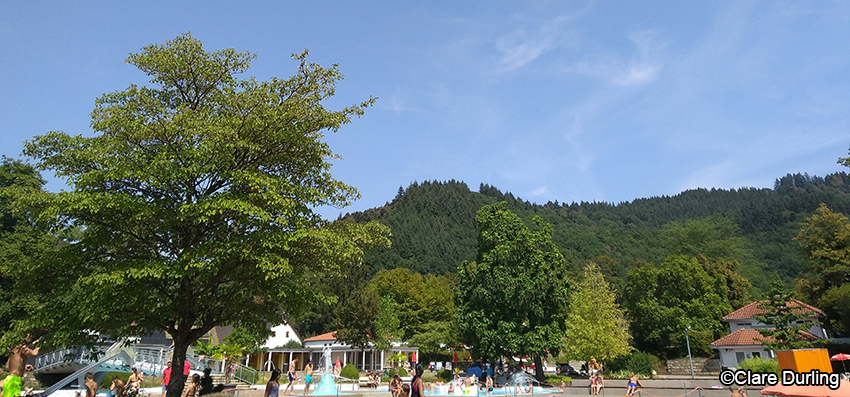 We enjoyed the Schauinsland Cable Car (known as Germanys longest cable car) and we didn't have to wait long (or part with much money) before we were off up into the mist of the mountain! The journey took 20 minutes to get up to the top. Again, we extend our apologies to the young romantic couple with whom we shared our cable car. (The employee of Schauinsland instructed us to do so – if nothing else, we hope we demonstrated the importance of having romantic moments before you have kids, and lose the ability to talk in full sentences).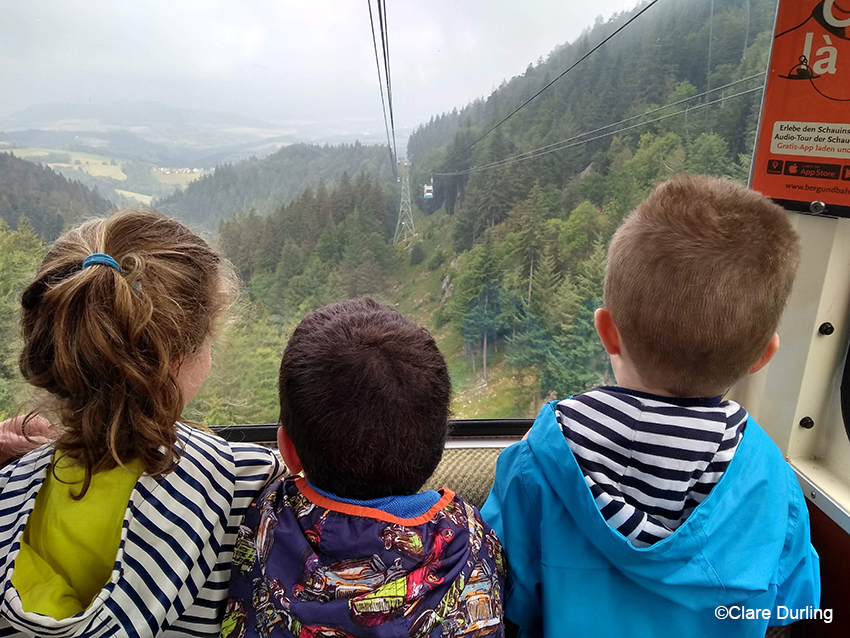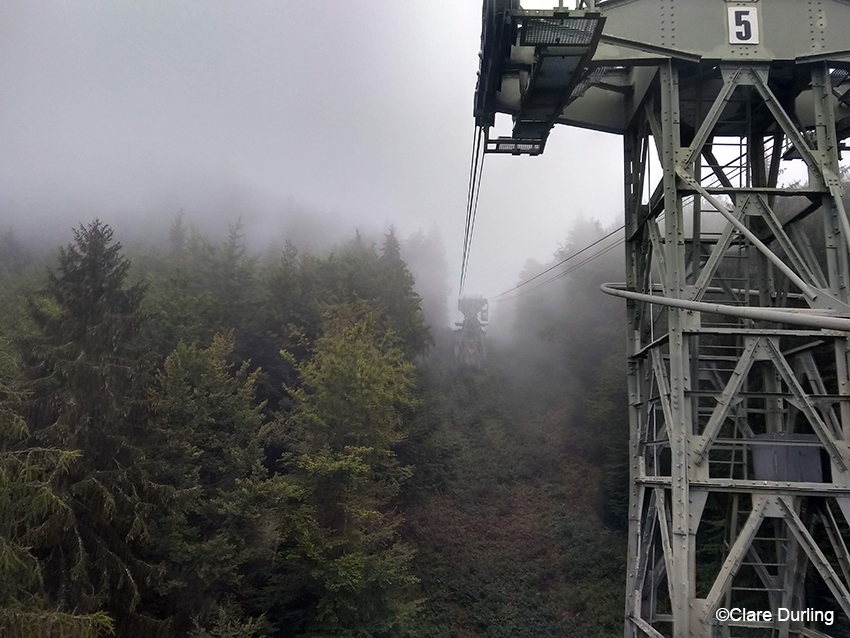 We had a really good morning, enjoying the refreshing temperatures at the top, a café and even a small play area. If you are in the area, I encourage you to visit - beautiful views of the forest and meadows below await you! It was a hair-raising journey up the many mountain roads to get there but hey! it was ok, as we had totally reawakened our European driving skills, remember?! If you are a passenger in the car, you would do well not to look out of your right window...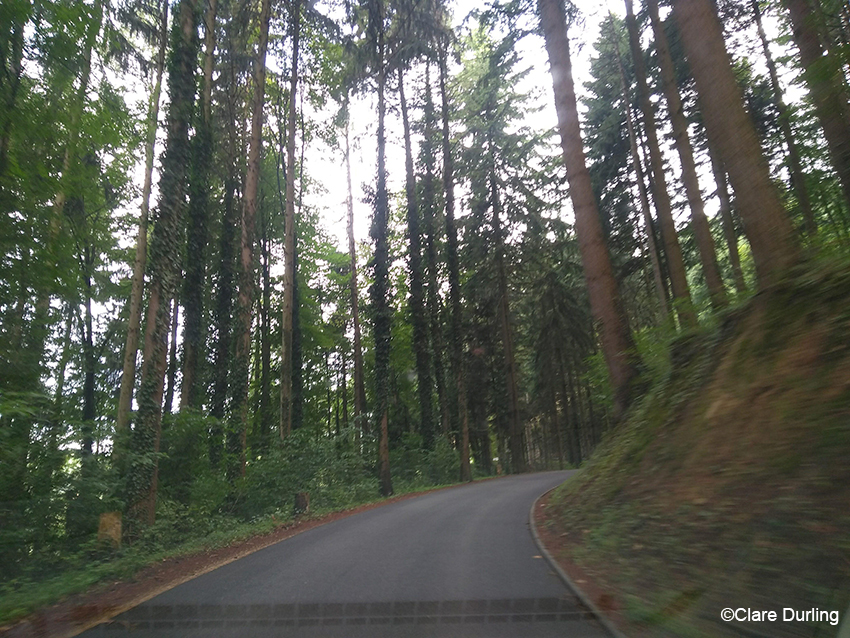 Once down on the ground, we drove to the nearby City of Frieburg im Breisgau, and we suddenly found out where all the people were - it was packed! A very beautiful town, and well worth a good look around - even with hot and over excited children accompanying you.
We moved on to Lake Titisee, a touristy town full of souvenir gift shops and restaurants, as well as a selection of small boats to hire. We dined at Bergsee restaurant, a venue facing the lake (from which there are many to choose) offering a sunny atmosphere, great views and good hearty German food. The children enjoyed their first experience of open water swimming on the beach of Lake Titisee - despite the hot weather, the water was cold. A little too cold for us wimpy parents! Parking was a nightmare - not particularly expensive, but busy and tricky to find.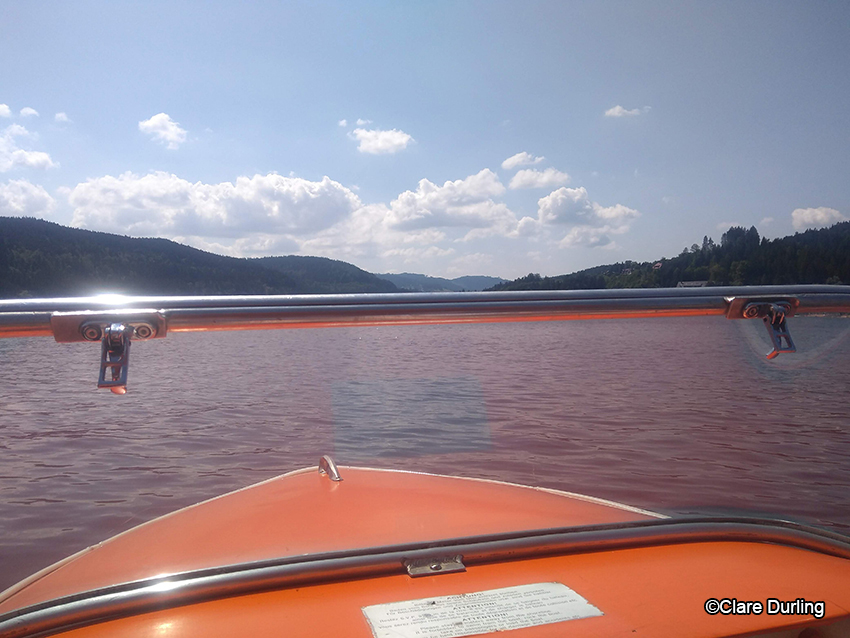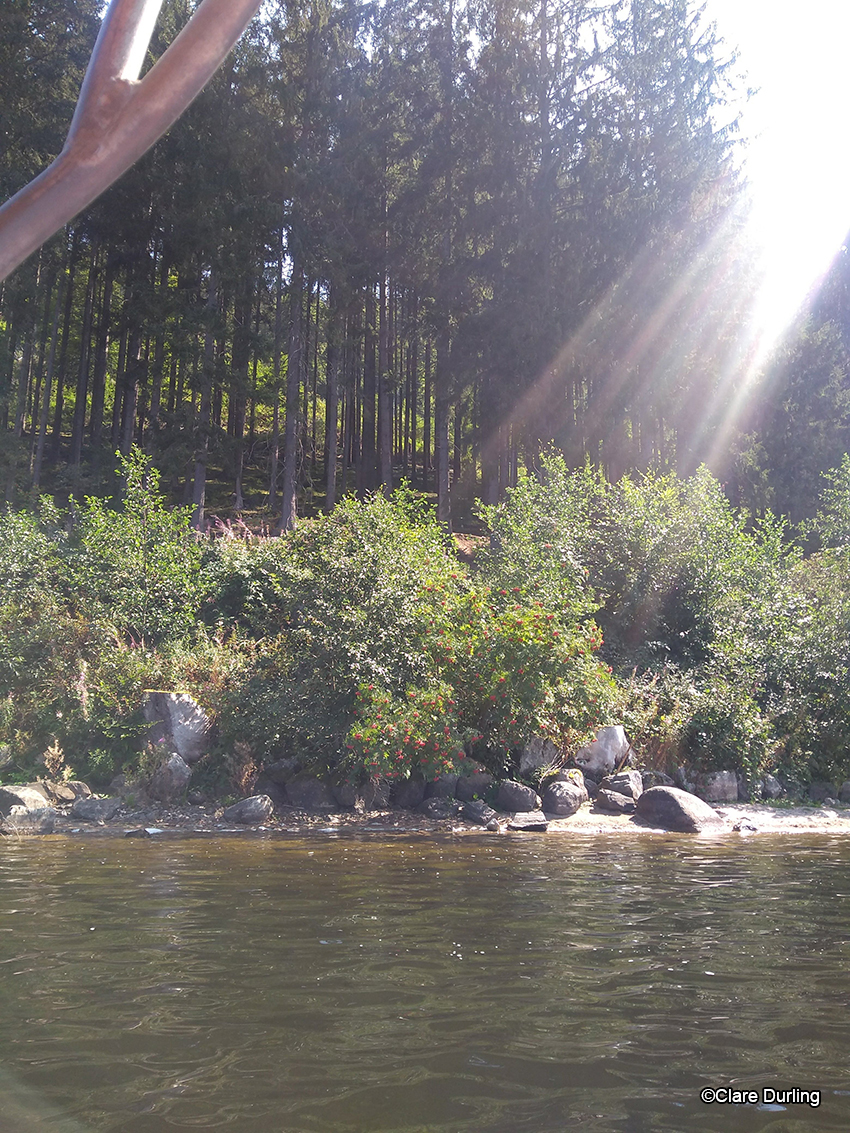 We choose Steinwasen theme park over Europa Park, primarily based on 'price vs age of our children' (8 , 5 and 5). I now appreciate them to be both very different days. Steinwasen did not disappoint; it's a small theme park with a zoo, located in the mountains. It's a beautiful mountainous location, with a stunning (albeit less daunting) drive to get there. Another fact - The park has the world's biggest rope bridge (not at all scary, and somehow feels extremely secure, given its high altitude) and 800 metre toboggan track.
My son lacked confidence initially, so my husband took him down at a slow, manageable speed. The little angel then persuaded me to accompany him down, which I dutifully did. Unfortunately for me, I had discovered that he had soon found his inner toboggan-enthusiasm, whilst we were hurtling down the side of a mountain at some insane speed! I will defer to his Dad to teach him to drive when he is older... The ski-lift that gets you to the top and the start of the toboggan track has no safety rails on the chairs – perhaps in hindsight, this was foretelling of what was to come on the toboggan track.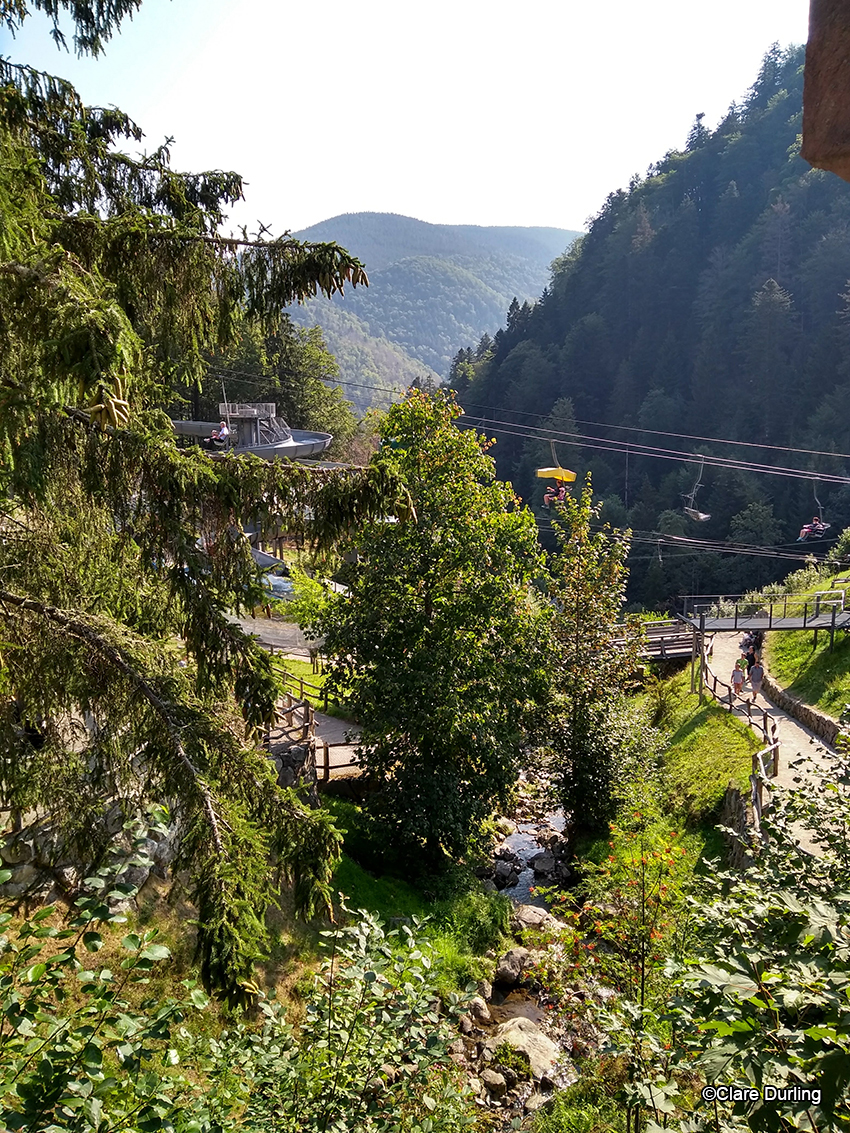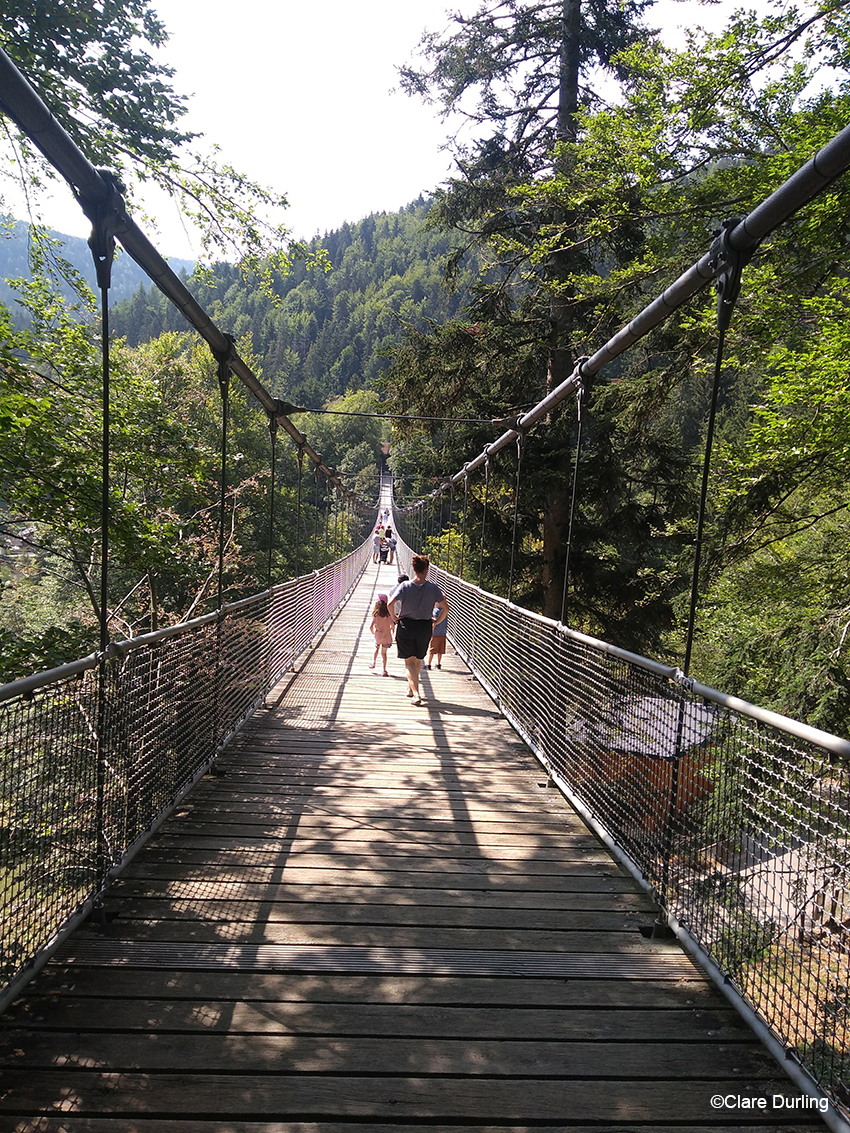 Another great day out was Triberg waterfalls - Germany's highest waterfalls, no less - which plunges 163 meters into the Gutach River. There are different trails here of different lengths and abilities. It was only later that we discovered that you can buy a bag of nuts to feed the squirrels - come to think of it, I can't remember seeing any squirrels. I can imagine they took one look at us lot and ran the other way! Anyway, it's a really beautiful and refreshing way to spend a hot afternoon. I think it cost somewhere in the region of 10 euro for the family to get in. Really worth it.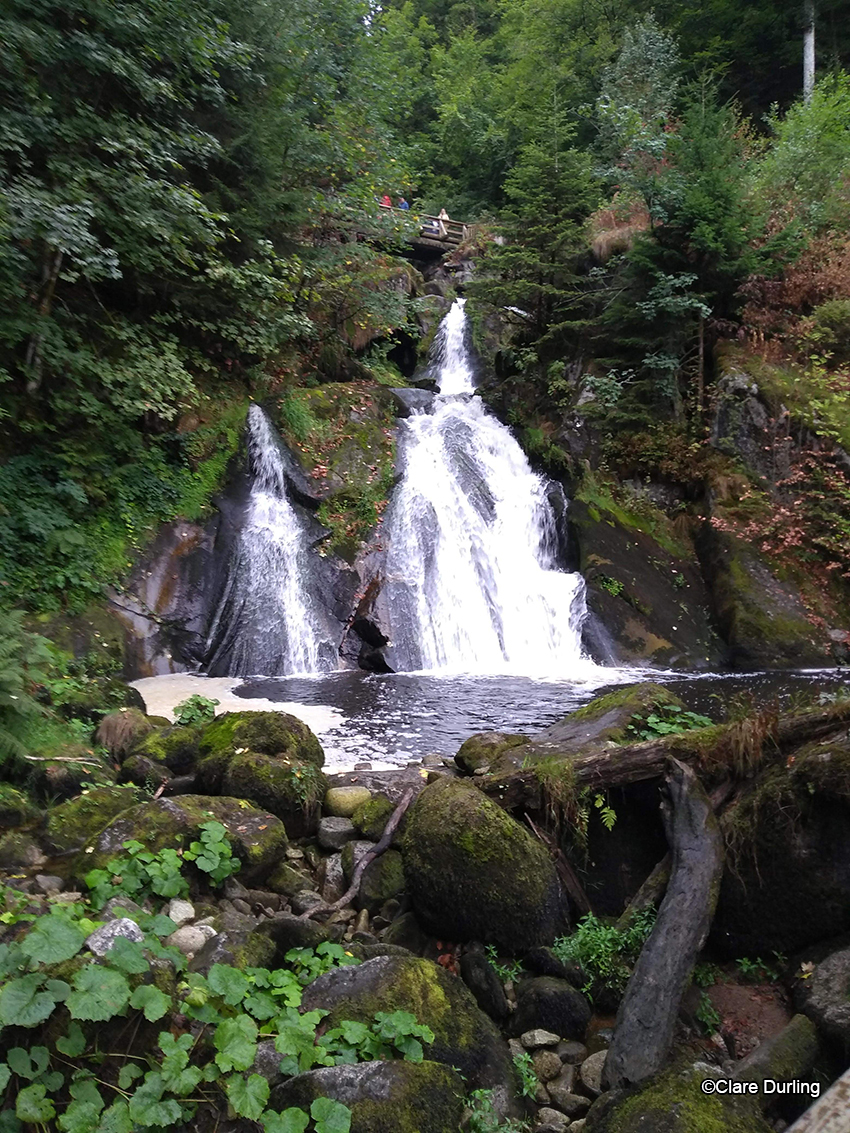 Despite being warned not to, we felt we couldn't miss the 'Largest Cuckoo Clock in the world' of Eble Clock Park.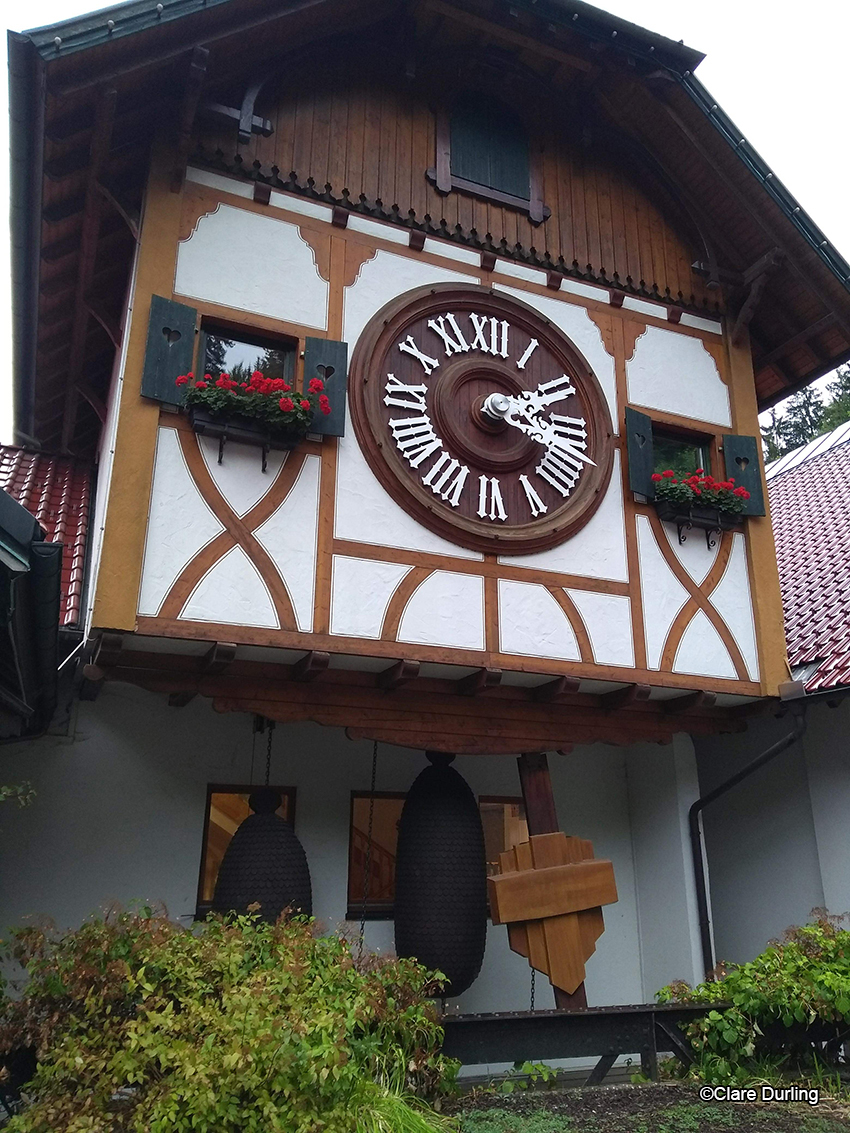 We waited dutifully with other tourists for the hour to pass and see, what we hoped to be, a magnificent cuckoo clock display – sadly, it was breathtakingly anticlimactic. The crowd all heaved a collective sigh of disappointment, and went our separate way – although, not before buying this fridge magnet in the shop - not all loss!!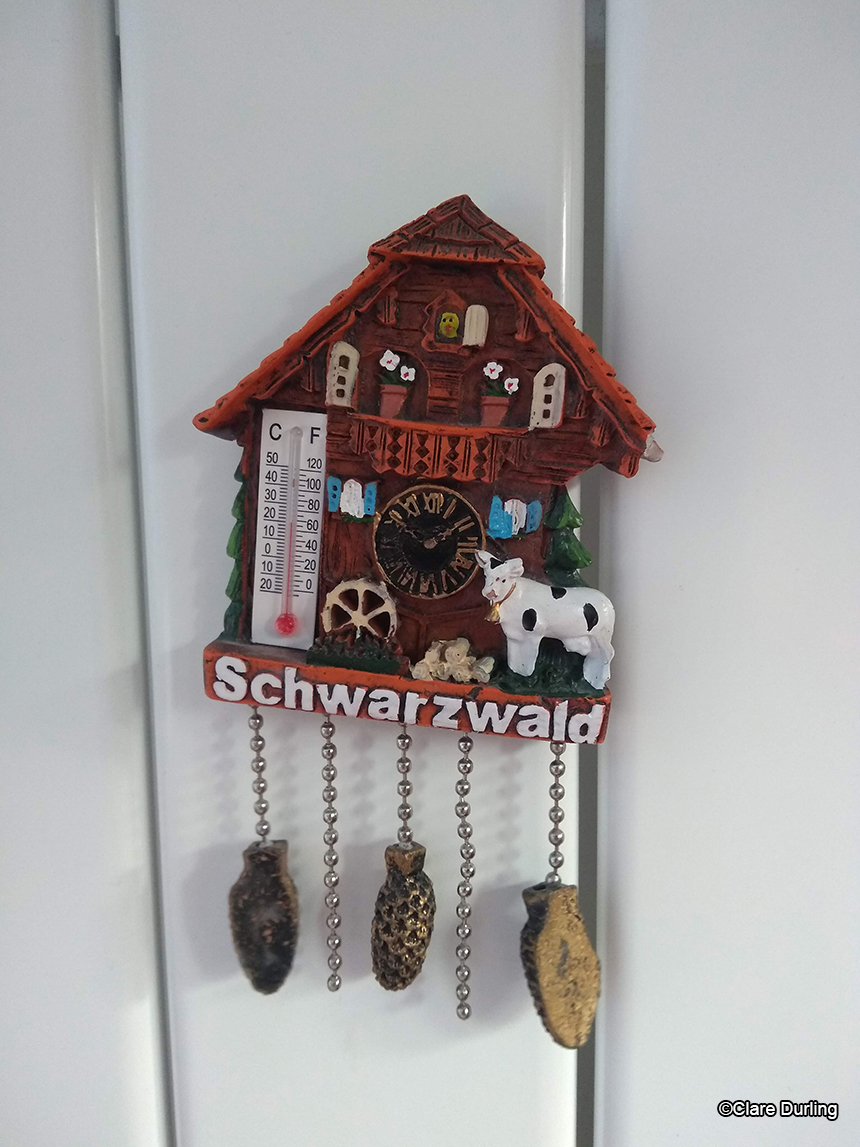 How have I got this far without mentioning Black Forest Gateaux?! A beautiful layered chocolate cake made with lashings of cream, cherry jam and schnapps. If that's not reason enough to visit the region then what is?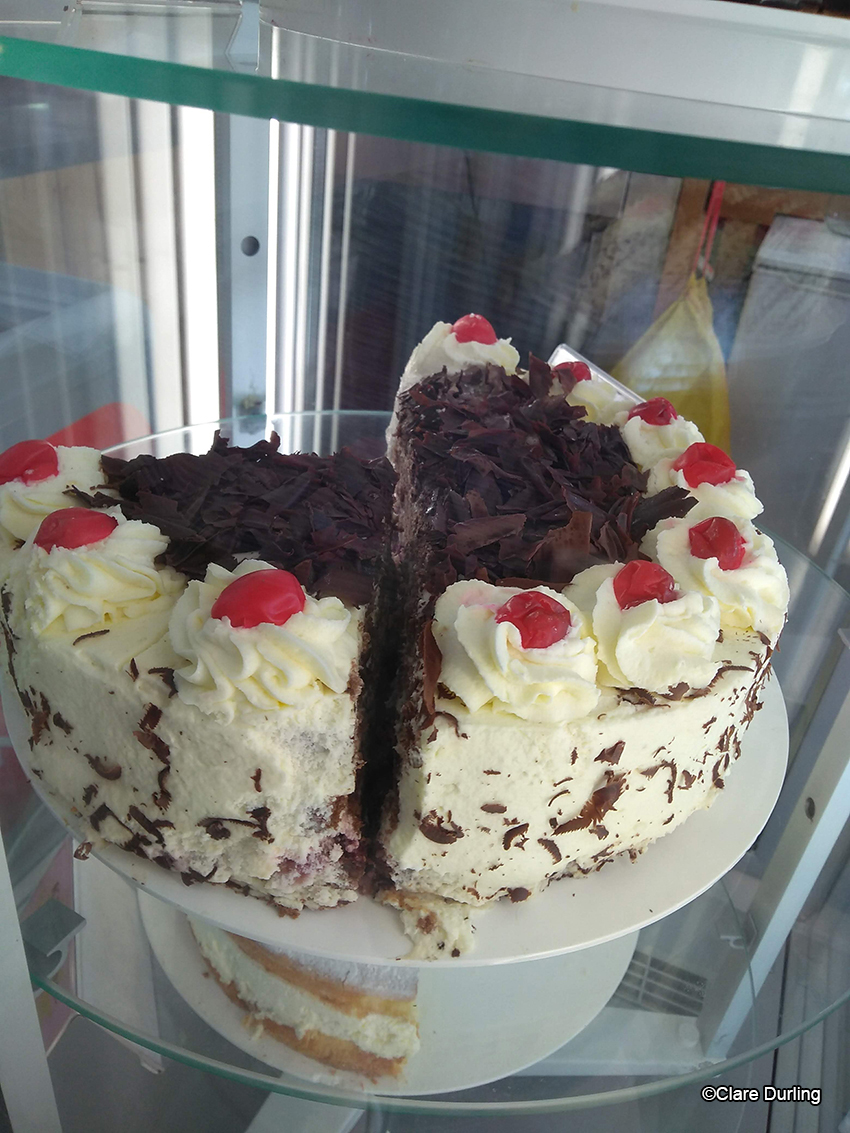 On the whole, we found Germany an extremely family-friendly place to travel. We learnt a few German phrases, and often used Google Translate on our telephones when in more local/less touristy restaurants, and communication was rarely, if ever, a problem. We were pleasantly surprised to find that food prices in tourist areas were not expensive and, with our new found love of Pilsner, Bratwurst, Schnitzel and red cabbage, we felt especially well catered for.
The Black Forest - a beautiful and mysterious part of Europe. A popular destination amongst Germans but perhaps less so for others. The area exceeded my expectations, offering thrilling adventures in the backdrop of beautiful tranquil forests, meadows, lakes and villages steeped in tradition.
Tags: Family Roadtrip; Germany; Black Forest